2015 Brain Damage presented the album « Walk The Walk » — seen now by many as a centerpiece of his discography —, featuring 10 original songs, composed in collaboration with the legendary Horace Andy, Willi Williams, Winston Mc Anuff, Ras Michael and Kiddus I, that he met in Kingston, Jamaica, at mythical Harry J Studio. One year later, we therefore welcome the release of « Talk The Talk », gathering the dub versions of these tracks.
To highlight each of them, the producer chose to have them vocally introduced, as it used to be good form to back in the days, calling on another legend in the person of Father Wee Pow, founder of the major Jamaican sound-system Stone Love, that call all the shots on the Island since … 1972 !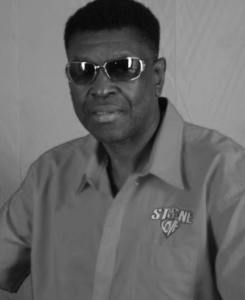 Winston « Wee Pow » Powell founded Stone Love sound system in 1972. Soon well known for its sound quality, it quickly becomes one of the most popular in Jamaica. Still active nowadays, it is a true institution in itself, and by extension, a trend indicator whose influences regularly spread throughout the world, like each musical movement that developed in Jamaica for many years. One of the longevity secrets of Wee Pow's project seems to stem from his excellence in the art of bringing together around himself, the very cream of the crop of Djs and selectors of the Island, bringing a fresh and young perspective necessary to constantly reinvent itself.
Each dub version then develops with lots of echoes, reverberations, surprises, fake accidents and true mastery through sound texture manipulation, sometimes bruitist, juxtaposed with Elders' firing choruses, appearing here and there as references to the original versions. Also of note is that each track systematically concluded by vocal interventions in the form of the singers' interview extracts, taken from talks that were conducted following the studio sessions at Harry J Studio, one year earlier, thanks to the complicity of the two producers, Sam Clayton Jr and Stephen Stewart, without whom, none of this would have been possible.
Ironically, if Brain Damage is acclaimed for many years as one of the leading activists of the French and international dub scene, « Talk The Talk » feels like his first proper dub album. May it sound like an exercise in style, it is mainly a cornerstone of a wider project, complemented by another essential part to its understanding, this time in the form of a documentary.
Joined during his Jamaican journey by the director Wasaru, it seems obvious to Brain Damage that what they got here with « Walk The Walk » extends way beyond the artistic realm: listening to these living legends telling about their childhood memories has indeed a true heritage significance. Between a photograph of Jamaican life of the 60s & 70s, anecdotes about mythical figures and historic milestones of the Island, and personal confidences, these are as many stories within the history, narrated in this 8 episode documentary series.
The phrase "talk the talk, walk the walk" meaning "backing up one's rhetoric with deeds", perfectly reflects this project as a whole, as each of its dimensions has been considered, and intellectualized, before its very completion.